Today we are releasing a brand new app: a standalone podcast player for your Apple Watch, called Outcast.
You can search, browse, download and play podcasts, all without your iPhone!
To celebrate its release, Outcast is available for $0.99 (normally $2.99) until January 31. No in-app-purchases, no subscriptions, just a once-off download price.

When the Series 3 Apple Watch was released in September 2017, all I wanted to be able to do was leave my iPhone at home, then download and play podcasts when I'm out-and-about.
Now, with Outcast, you can download your podcasts over cellular or Wi-Fi:
Open the app on your Apple Watch
Search for your favorite podcast
Download an episode
Put in your AirPods (or compatible bluetooth headphones/speaker)
Play your downloaded episode.
Outcast is not intended to be a replacement for the podcast player you use on iPhone; it is intended to complement it for those times you want to leave your iPhone at home.
Outcast works with all models of Apple Watch. Series 0, 1, 2 and 3 can all download directly using Wi-Fi (or via cellular when connected to iPhone); downloading using cellular without an iPhone requires a Series 3 Cellular Apple Watch.
Downloading Files on Apple Watch
One of the most difficult aspects of developing Outcast was implementing a fast and reliable solution for downloading.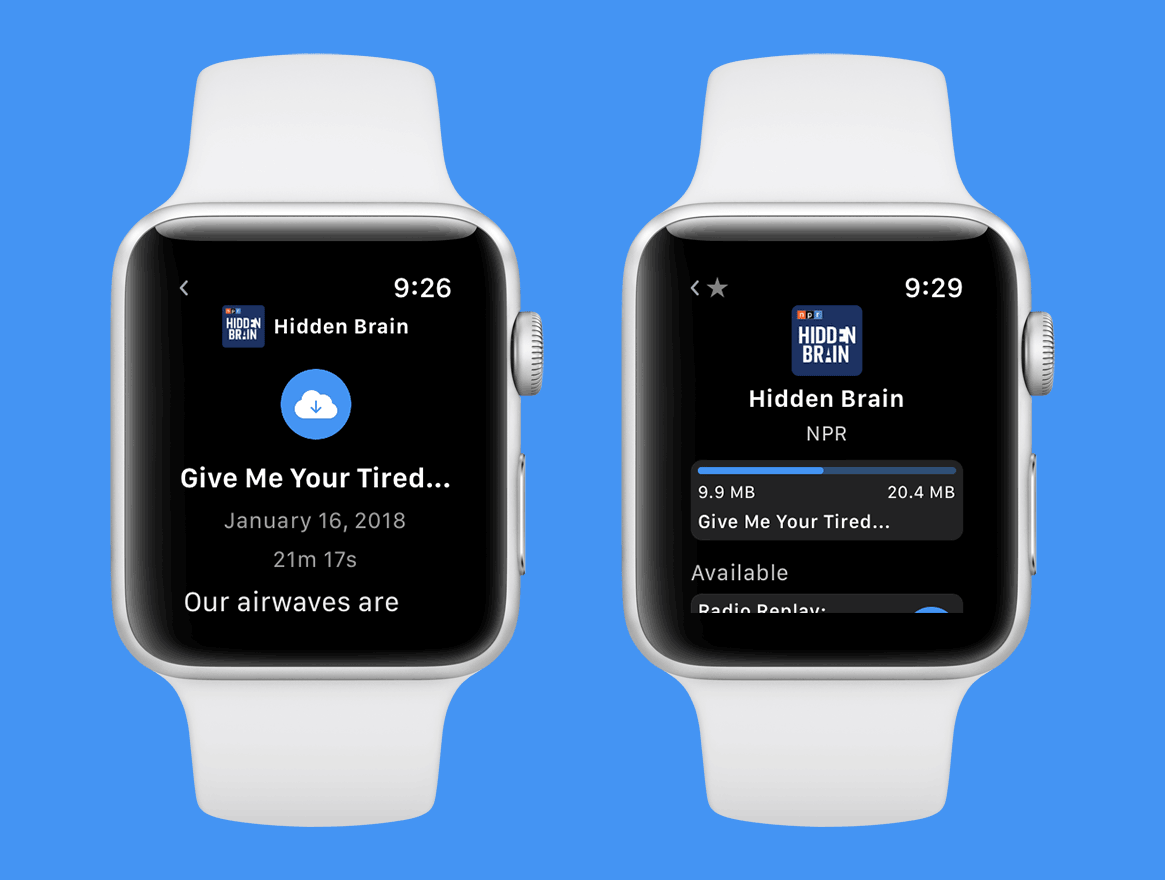 Apple Watch is an amazing piece of hardware — but with all of that functionality packed into a tiny device are limitations in order to extend battery life as much as possible.
For example, when you download a file on the Apple Watch, it actually transparently downloads the file on your iPhone, while simultaneously transferring it to your Apple Watch over Bluetooth.
If your iPhone is not available to your Apple Watch (for example, if Bluetooth is off), then the networking stack on Apple Watch is activated and downloads are performed using either Wi-Fi or cellular.
Assuming you have a decent Wi-Fi or cellular connection, the difference in speed over transferring over Bluetooth is amazing.
Download Tip 1: Disconnect your iPhone when downloading podcasts episodes on your Apple Watch. The easiest way to do this is to turn off Bluetooth.
Download Tip 2: Ensure your screen stays on while downloading. You can change your Apple Watch system settings for the screen to stay on longer (but I prefer to wiggle the crown back and forward until the download completes).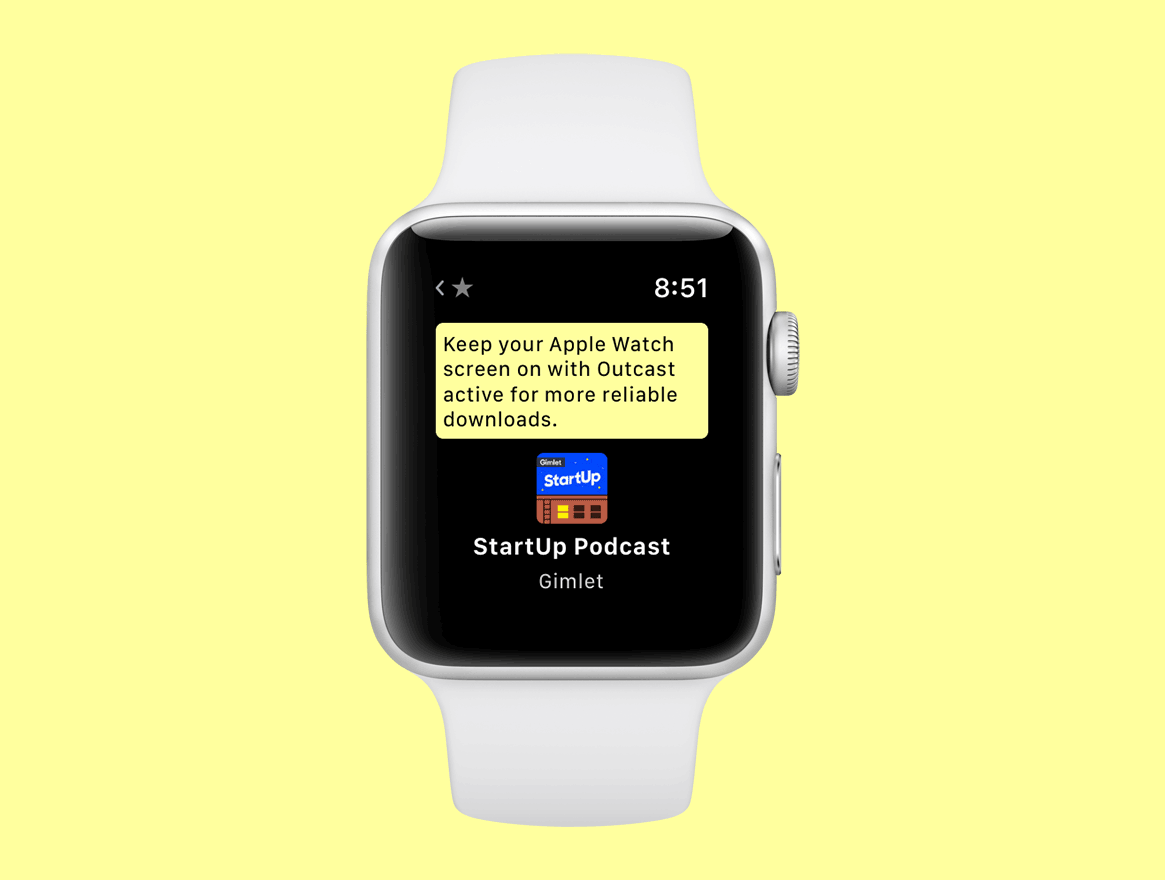 As soon as the screen turns off, the app is made inactive and downloads are paused. We could have used the watchOS background downloading system, but when you're itching to go out without your iPhone, this system can take a little long. Because of this, we only use foreground downloads in Outcast!
We also enable screen rotation while downloads are active — this keeps your screen on even when you put your wrist down. You can disable this in Settings.
Playing Episodes
Outcast features a fully-integrated "Now Playing" screen, which you can use to play, pause, jump forwards/backwards, and scrub.
There are some limitations to be aware of:
You can only change volume in the "Now Playing" app on Apple Watch (using the digital crown). This screen is also available by swiping left while in the Workout app.

The "Now Playing" app doesn't allow you to scrub or skip position: use Outcast for this.

Use the digital crown in Outcast to scrub forwards/backwards. The faster you rotate it, the faster the scrub. You can change the sensitivity in Outcast settings on Apple Watch.

You can modify the playback rate (defaults to 1.0x) by force-touching the main screen in Outcast.

You can modify the skip forward/backwards durations in Outcast settings on Apple Watch.
Managing Your Podcasts
Outcast supports importing and exporting .opml files. This is a file that contains a list of the podcasts you're subscribed to (it doesn't contain information about specific episodes).
You can import your list of podcasts from your iPhone podcast player (such as Pocket Casts) to have them transferred immediately to Apple Watch. When you export from your iPhone podcast player, select Copy to Outcast in the iOS share sheet.
Note: To save on battery and bandwidth, the artwork for imported podcasts is only loaded after you select the podcast in Outcast.
Likewise, you can export your list of podcasts back to your iPhone podcast player: tap the Export button (center-bottom) in the Outcast iPhone app.
Unfortunately, syncing playback progress between Outcast and your iPhone podcast player is not currently possible. We have some ideas on how this can be achieved, so hopefully we'll have a solution for this soon.

We hope you enjoy Outcast, and we're looking to forward to hearing your feedback, either at support@outcastapp.com, or on Twitter at @OutcastForWatch.
Outcast for Apple Watch